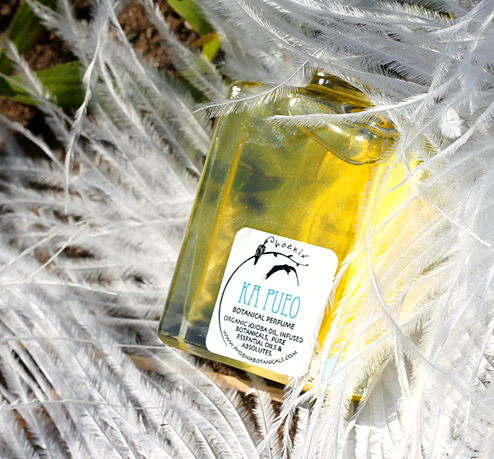 I'm always surprised that so many people come to day 1 of Sniffapalooza and don't do day 2. There are likewise some people who only do day 2. Day 2 is completely different. Day 2 is downtown, indie, discovery and insidery. If you really love perfume, I don't know why you'd want to miss it.
It irritates me when people try to talk about the mystery of perfume in the boutiques uptown. I love those perfumers, but let's face it, the mystery of their perfume is what sort of advertising copy they'll be putting out and what trend they're starting to try to replace the fashion for oud. Occasionally a person in the perfume industry will bemoan the lack of mystery, and I just blink. Mysterious it's not.
Oh, there's the occasional encounter with someone who really evokes the sensuous nature of perfume.
I will never forget my first Sniffapalooza and the woman who introduced Van Cleef & Arpels' Midnight in Paris at breakfast that day with a whole story about one's first date, on a night, of course, in Paris, and the scent of leaning into that man's arms – and warm leather jacket – late at night after coffee, patisserie, and walking along the Champs-Elysées. (Or the Seine, I don't remember.) The perfume was introduced along with a planetarium watch that cost a third of a million dollars (and would, presumably, tell you when it was midnight on any number of planets that are visible to the naked eye at night.) It's Beyoncé-level bling and it's appealing in its way; it doesn't really reflect my lifestyle. The story and the scent had an undeniable romantic aura, but the bling makes you remember: you're uptown.
Whereas on day 2, I have encountered perfumes like Kelly & Jones' line based on the scent of wine – charming (and affordable) and surprisingly lovely. Try the Cabernet, it's very broadly pleasing. It's where I first saw the Hayari perfumes, and House of Cherry Bomb (I really want to try Pink Haze). It's where I first heard about Phoenicia Perfumes and the amazing Skin Graft that is such a personal story of real suffering and survival, and about Nomad Two Worlds' work with Aborigines in Australia to make the remarkable Fire Tree perfume with sustainable essence of the real fire tree, a tree we don't have on our continent. I discovered the stunning porcelain bottles of Suleko and their beautiful Russian-inspired perfume recipes (I still covet a bottle of Baba Yaga). I've eaten frankincense ice cream and had some of the best conversations in the downtown peregrinations that are day 2 of Sniffapalooza. It's a totally different experience from day 1 and I wouldn't miss it.
I usually try to relax and just do whatever shopping I feel like before the lunch, which is really the showcase. Mark Behnke of Colognoisseur is the hardest-working perfume fan in the world and he doesn't just MC the lunch; he frames what you're about to hear with his encyclopedic knowledge of perfumes here and abroad, past and present, and he puts it all in context. So I strolled around and got my shopping done (I knew I wanted to hit Le Labo, it was a planned purchase) and then got to luncheon in plenty of time.
Finding a downtown restaurant should be easier than uptown but it's no joke hosting the whole crew (it's still quite a crowd) with space for speakers. La Mela gives us good food and clearly is patient with us but I wish we could find a place with more space, as table-hopping and chatting is much of the fun. For the people who ARE doing both days, it's a good time to compare exhausted notes on what you've bought so far (and whether or not you have buyer's remorse from Saturday – usually it is still dopamine-high 🙂 ) and have perfume discussions more driven by love than marketing.
This year along with some usual suspects there were memorable presentations from a brother-sister perfume launch, Kiori (I'm rooting for them, as part of a very close brother-sister set myself), a chemist who produces the raw materials, a turnkey perfume producer who's making smaller launches of perfume brands possible for smaller businesses, and a return appearance of Irina Adam from Phoenix Botanicals.
I don't know how all these perfumers get found; I know I meet some of them at Sniffapaloozas before seeing them present at later ones, and Irina is one of those people. She gave me a sample to sniff while shopping at a Sniffapalooza two years ago, I believe, and while I felt like I was indulging her to take it (yes, you can reach a point at a Sniffapalooza where getting one more free sample no longer sounds so attractive), I remember that it was interesting and surprising, and I told her so. This was all the more unexpected to me because she told me it was natural oils she mixed herself, and in my experience those tend to have a certain family resemblance, and her perfumes bore no resemblance to… anything, really, though perhaps just by being more original they reminded me a bit more of Dawn Spencer Hurwitz' work (which is of a totally different style with totally different materials, but nonetheless, original). Then last year she was one of the presenters, speaking quite simply about her experiences with nature and how they had influenced her creative work with perfume.
Here was Irina again, talking about her latest creation, Tempest Blossom, which is her creation in every sense of the word: not only it is a tuberose and oud perfume (yes, creative combination), she is extracting these essences in many cases in order to make the perfume she wants. No, don't expect anything radical from Bed of Roses, Triple Vanilla, or Lavender Noir; they are what they sound like (though very high quality and very pretty). But on your way through Lavender Noir to Meadow & Fir and beyond (I defy you to find another interesting green like this unless you can travel as far afield into indie territory as Slumberhouse's Norne) you get to Ka Pueo, what I think of as her "owl perfume", inspired by the flights of an owl at night in Hawaii. Ka Pueo is unlike anything else out there and very beautiful. And now with Tempest Blossom she has done something else a cut above not just natural perfume, but most perfume.
Where else can you meet her and hear her really tell her story but at a Sniffapalooza event? There she is, dealing with a microphone in a dining room in the back of a downtown Italian place, telling you about the storms she saw in Hawaii and how they smelled and how she went about putting that experience into a perfume.
Overall in the perfume world there are still too many men, usually not creators, talking about perfume to the (mostly female) people who consume perfume. Here is a young woman who is working for herself, an actual nose talking about her experience with scent and scent ingredients. There are no steps removed between her and us. Yes, we still have to struggle with the people who insist on talking loudly through other people's presentations (sigh), we want to talk to each other as much as listen to more salespeople, and we want to eat something before we are forced by hunger to slay our table companions and start gnawing on their soft parts. But this is the real thing for perfume lovers. This is as close to the act of perfume creation as you can get. For me, as a perfume lover, there is nothing else like it.
Artists are famously inarticulate about their composition processes. I don't expect dissertations on the quality of olfactory art or artist's expectations for the lifespan of the piece they've just created. Any insight I can get into the creation and, yes, the business aspect of this field is interesting to me. And I feel that's what I get on day 2. Artists' immediate thoughts and inspirations, hopes and dreams are right there in front of you. I always want to treat them kind of gently. The perfumes that are so inspired are always worth experiencing too. But I want to treat them more kindly knowing where they come from, and what personal and intimate projects they are, almost all of them, for the people who made them possible.
I also learn a lot more about New York, down where the numbered streets stop. I've gotten to know the area over the years almost exclusively through the Sniffapalooza itinerary. And usually I end with some new experience. This year I had an errand to run over on the west side, and my beloved and I walked back to Penn Station along the High Line, the park created from abandoned elevated train tracks. That's New York at its best: innovative and populist.
So thank you, Sniffapalooza, for all of it, and I intend to be back next year!
—
Image are promotional images.
Bookmark or Share