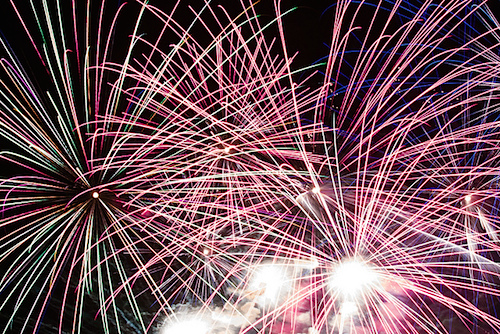 What do you remember most from your year in perfume?
I think mostly this year I surprised myself. Never heard of Pierre de Velay (nor, probably, have you, since it's a line Roja Dove keeps exclusive to his Harrods parfumerie); nonetheless, when I managed to stop in on my way through London perfume shopping and discovered No. 23, I bought it on first sniff, and have been loving it ever since. This scent is completely "me" and has become a comfort go-to on days when I want to remember who I am.
Never yearned for a Serge Lutens, that godfather of perfumistas everywhere; still I made a point to visit the Palais Royal shop in Paris and ended up buying not just Miel du Bois, which is pretty and easy to love, but Encens et Lavande, which became one of my go-to scents for the entire year.
I don't particularly love naturals or non-traditional perfume ingredients. Nonetheless I really enjoyed discovering 4160Tuesdays and will forever associate the scent of raspberry leaf with Sarah McCartney's creations, which are quirky and retro at the same time. (I'm also not the sort of person who makes new connections easily but on the strength of my love of Lady Rose Lion (Monkey Unicorn) I wrote to Sarah and she gave me an unforgettable afternoon (morning? I was jet-lagged) of sniffing and perfume stories in her studio.)
By Kilians don't generally impress me (except Back to Black, which I adore); yet I fell in love with In the City of Sin and have been wearing it constantly all the time everywhere. (When I reviewed the In the Garden of Good and Evil collection I did say that this is the one I would like if I were going to like one.) I told myself this spicy peach wasn't exciting enough to take a spot in a collection that was already graced with Yvresse (Champagne) and J'adore, I didn't feel I needed any more peaches. (And I've never come to terms with Mitsouko, the granddaddy peach of them all.) I bought City of Sin in the travel set as much to complete my collection of the By Kilian travel sprays, dear God I adore them; but I have worn it all. the. time. If I can't think of what else to grab, I put this on, and I am happy.
I tested, and then acquired full bottles of, Burberry Woman and Gucci Guilty.  I have been craving simpler, easier scents and found them in the department store set. I've been having a lot of problems with allergies and various sorts of sensitivities this year, and whatever else I can say for department store perfumes, they don't cause me head congestion. Turns out, thankfully, after much trial and error, that few things do. And the skin sensitivities appear to have been in reaction to other things, mostly diet and stress. It was scary to think I might have to cut down on (or give up, horreur, but how would I ever do it?) perfume, and I am very, very sympathetic to Olfactoria over at Olfactoria's Travels who has been struggling with asthma and is going through that very thing. Anyway, this is an ongoing situation.
Dalal the five-dollar Al-Rehab perfume oil was a delightful discovery, a sort of honey-ish vanilla-ish thing that I love for its cuddly simplicity, and thank you my perfume buddy R for pointing it out to me. Amun-Re Tears of Ra was a honey in the other direction: rich, developed, sophisticated, and exquisite, and this Soivohle perfume is going on my FB wish list. I love the rich sweet floral scent of honey, and hay has many of the same associations for me, which is partly why I also sprang for some Slumberhouse Sova. All their scents are so different and so determined. Zahd is idiosyncratically stunning (though not the sort of thing I just throw on for a day at work) and Sådanne, which I reviewed here as well, is a sensuous blonde catwalk beauty.
Weirdly, oddly, Oil Fiction by Juliet Has a Gun has turned out to be absolute bliss on me. I liked it on first sniff and just kept on liking it more, all the way up to FB-status love. It's one of the ones that shouldn't be so awesome, perhaps, and on paper it might not be but on me it is. It's a gunbarrel rose fist that becomes a cloud of reassuringly ferrous warm flowers, and I love it. Love.
Along with Oil Fiction, I acquired Le Labo Rose 31 oil, and my rose love is complete. This was a completely planned purchase at Sniffa last fall and, unlike many of my overthought planned purchases, it was right on the money. As I expected to, I wore the hell out of this thing this fall, and expect to continue to. The oil format is just right for it and along with the soap – truly I think these scents eased my transition into fall (that and being so ridiculously busy). (Fall is always insane at work and I hate the days getting shorter and darker.)
I had a SoOud summer, acquiring not only Hiris at the going-out-of-fine-perfume-business sale at Henri Bendel but also Nur, which I had been carrying around in a sample in my purse for over a year. Nur is the sunny leather that I wanted, and I love it, but the lime-iris sunniness of Hiris surprised me. Iris was one of those notes that I disliked on first meeting but continue to find lovely versions of here and there. The beautiful Scent of Hope from DSH Perfumes is the only thing I kind of wish Santa had brought me. If I wear my sample more and still love it, perhaps the Easter Bunny will hop a bottle over to me.
Additional department-store bottle love: I finally just broke down and bought some Infusion d'Iris, and there are days when that powdery iris just suits me to a T. Not plumpy but not tailored either, it's calm and cool but not brutal as iris can be. I've always liked Florabotanica and finally got my FB this year. I smell in it what the ad copy says you're supposed to smell, the stemmy rose-garden rose that so many others seem to miss, and for me it's a perfect adjunct to the Eau de Chloe's dewy green rose already in my collection.
I also went back to Bulgari. Purveyors of two of my favorite scents ever – Black and Eau Parfumée Au Thé  Blanc – I tried Omnia this winter and for the first time (things change!) really loved it. The masala tea note that others rave about was apparent to me for the first time; and the almond/tonka thing in there that I usually hate was overshadowed by the floral spice dry down of the thing, which is divine. Good to fall in love with something I already had; bad to think about backup bottles, this one, long discontinued, is disappearing! I've also been wearing a lot of Black.
Like many other perfumistas, I found Elizabeth & James' Nirvana Black to be the mainstream perfume release of the year; I have the oil and it's not as strongly scented as I would like, but the perfume is lovely, and I love the bottle design. Maybe the world doesn't need another vanilla sandalwood, but me, I'm OK with it.
I'd been waiting to buy Bottega Veneta forever, and now that I have, I never wear it. I have to try it in some different weather. It does not smell to me the way it did when I first tried it, or in the samples I take out to wear from time to time, the appealing warm lemon leather. I was curious about Knot, and found it completely uncommentworthy.
This was the year I stopped paying attention to Philosophy altogether. Once a fanatic, I stopped using their skincare years ago as it became a cheap, skin-drying, skin-irritating copy of its once great self. Now even the perfumes are pointless. Its constant cascade of forgettable fruity musks is really sad to me, the demise of a player that actually had a huge impact on the fragrance field in the 90s. Amazing Grace was a very good scent and I really enjoyed Falling in Love and Inner Grace. Now there is no way to even keep track of the flankers of the flankers of the flankers and the sheer cynicism of their production overwhelms even me, inured to the realities of corporate profit goals as I am. Their originals have been reformulated and the whole enterprise deserves to be brushed off into the dustbin of fragrance history. Judging by the people bidding against me on eBay for the old oils, I'm not the only one who feels this way.
I am still a mad devotee of WEN, however, and hope I always will be. The amber woods scent they put out for men this year actually works really well on my hair AND smells nice; it's a complement to (but not quite as good as) my beloved NEST Moroccan Amber shower cream. They also brought back the beloved winter vanilla mint; I'm going to try it, and I don't expect it to be as good as the old one, but we shall see. I still have several bottles of the old to see me through. 🙂 The summer peach fit in with my peach year and was simply awesome for my skin and hair (I use the replenishing mist and the oils as well as the cleansing conditioner); I adore that stuff. This was the year I stopped ever washing my hair with shampoo, as one day I just couldn't face the three-day recovery time to get my normal hair back and took my WEN to the salon for my haircut; and when my hairdresser saw the results on my hair she said "You should always just use this." Well OK then!
Documenting my year in perfume would not be complete if I did not note my love affair with Guerlain Encens Mythique. A decant of this came my way in the summer and it had always been the one of this trio (Les Déserts d'Orient) that I liked. Dabbed on, this turned out to be one of those what's that, oh my gosh I smell good, I startle myself I smell so good fragrances that has a million facets and never bores me. Not my usual habit but threatened with reformulation I tracked down another bottle (of this particular batch, as was recommended to me), and am hoarding it like a dragon. Hands down, if my year smelled of anything, it smelled of In the City of Sin as background gold, studded with the cabochon jewels of appearances of Encens Mythique.
What were your favorite discoveries of 2014? Were they classics or new releases? Anything you re-discovered in your collection? Any ballyhooed releases that disappointed you? Anything you wore the hell out of? Anything where you surprised yourself for liking it?
—
Image of fireworks by Larry Loos, via Flickr. Used under Creative Commons license, some rights reserved.
Bookmark or Share