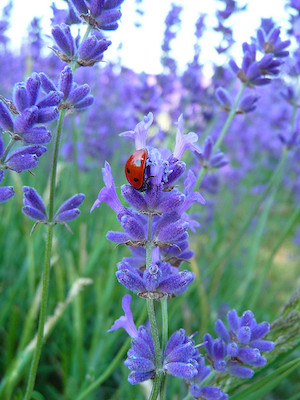 A positive review of Burberry Brit Rhythm for Her (which sadly I cannot locate) sent me off into one of those spirals of must-have, must-have, must-have. I love the idea of lavender oil, I like the calming effects of smelling it and I like its clean freshness, and it sounded as though I might enjoy this one.
Having now obtained a sample and worn it a bit I can see why Burberry Brit Rhythm for Her is not doing so well. Aside from its ridiculous name (there is a version coming out that adds Floral to the name; I assume Noir is just around the corner), it's well done but simple and to my nose a bit too obviously head-to-head competition for Prada's popular Infusion d'Iris.
That's right, I'm comparing an iris to a lavender. Both of them have a metallic ground note and I wouldn't be surprised to find out the same ingredient caused that note in both. When the top wears off, this chilly bit of fluff (makes me think of a medieval mace wrapped in fake sheep fleece) is not so different between the two perfumes; and whereas Burberry Brit Rhythm for Her is not well known, and pretty indistinguishable from all the other various Burberry bottles out there (at least the rectangular tartan ones), Prada Infusion d'Iris is a blockbuster hit and visually distinguishable as well with its frosted glass and its evocative mint green box.
I'm glad I didn't blind buy this Burberry. I have been enjoying Burberry Brit, and got a bit excited. But this one I can live without. If I decide I want a classic lavender and vanilla cologne, I still have a mini of Caron Pour un Homme around here somewhere. And I own a bottle of Infusion d'Iris.
If you're looking for chilly metal (and this time of year I don't know why you would be), let me recommend Craft, by Andrea Maack. Maack scents are so interesting to me. They have the beauty of composition and experience, more like couture than architecture. Craft to me is less like a knife edge and more like a silver ring with cabochon stones. Maybe I'm just a sucker for patchouli – this claims to have patchouli in the base, but it would never cause me to sit around thinking "Hm, I'm wearing patchouli." I don't wear it often – I always end up liking the idea of it more than the actuality of it – but if lavender is what I'm craving, the intelligent and beautiful creation of Craft is usually what appeals to me most.
Of course, it's the color of lavender that's my favorite feature.
—
Image is "Lavender blue" by surrydweller…, via Flickr. Used under Creative Commons license; some rights reserved.
Bookmark or Share