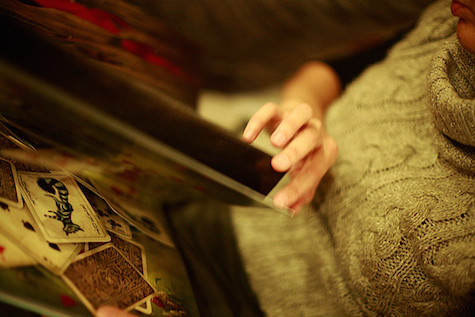 Upon my first wearing of Chance, I decided that I felt about perfumes the same way I feel about books: awwww, all of them should be loved by someone somewhere.
I'm dead serious about this. I worry about how inanimate objects feel, especially about whether or not they feel lonely and unloved. I used to tuck in all my dolls every night, and to this day when I find something old and unused at the bottom of a drawer my first thought is "Poor thing, you must have been lonely."
Fortunately Chance has its lovers. You can find plenty of people on the internet singing of their love for this 2003 Chanel creation. If I had to guess, I would assume that most of them are people without too many bottles of perfume in their collection. I say this in all seriousness, because if they had any broader experience of perfume, they might think of Chance as I do: the blandest expression of perfumes of the last decade, an absolutely nondescript perfume that opens with unidentifiable fruits and closes with unidentifiable woods, the kind of perfume that gave rise to the term "fruitchouli". Which is not an accolade.
Even when wearing it all day, I have trouble remembering what I'm wearing. There is nothing distinctive about Chance, nothing at all.
But the people who love it find it to be that elusive combination of fresh and sensual that American perfume buyers are always looking for, the kind that reminds them of nothing actually sexual or natural. (Thanks to perfume writer Barbara Herrman for tweeting that story.) It is what they wanted.
Chance doesn't appear in the top selling perfumes of the year that one finds posted at perfume blog Bois de Jasmin. Coco Mademoiselle – which is only fruitier and cleaner – consistently outsells it.
So imagine the "rebel" who actually buys and wears Chance and what it must smell like to them compared to the other big American sellers. Chance is much warmer and more "sensual" (meaning with a base that includes some cleaned up reference to "wood" as well as "musk") than its better-selling sister. It's less of a sugarbomb than Flowerbomb, and far more elegant and evocative of classic perfumery than Light Blue. Of course they love their Chance!
I'm glad this perfume has people to love it. Perhaps those people wouldn't like perfumes that are actually heavy with wood or warmer notes like amber or myrrh even if they smelled them. After all, every American consumer has had the chance to wear Angel and they're choosing Chance over that. As someone who loves expanding horizons I'd love for them to try House of Matriarch's Bohemian Black, Soivohle's Amun-Re Tears of Ra, Jalaine's Patchouli oil, even Amouage Fate. But they don't need to. They found Chance and they're happy with it.
Every perfume should have someone who loves it.
—
Image is "gambling woman" by (the world through highland cattle's eyes), via Flickr. Used under Creative Commons license; some rights reserved.
Bookmark or Share