Sniffapalooza last weekend was some much needed fun time for me. I haven't posted much lately, have I? Well, I have a lot to show for this year, but it has been ridiculously busy. Not-busy fun time is important, and for me that's perfume time!
Rather than a blow-by-blow, let me give you the flying overview, and you'll just forgive me for flipping back and forth between Saturday (the uptown shopping) and Sunday (the downtown), right?
For me the theme was about the history of perfume developing into the future. Two nostalgia projects may tell you what I mean by that.
Roja Dove debuted his A Goodnight Kiss, reproducing, for himself, the scent of his mother dressed up for an evening out and bending over his bed when he was a child to give him a goodnight kiss. His report was that he had not expected it to be a big seller; it is unabashedly of its era, the scent of powder and lipstick and elegant perfume of a bygone day. According to Roja, it immediately became a very popular seller. I think that perhaps the pendulum in perfume taste is swinging a bit, and while plenty of people on Sephora boards might still decry "smelling like an old lady", real vintage scents are interesting and beautiful again to many noses. (Or there are just that many people out there who still remember and want to enjoy a scent like that, which I would also easily believe.)
On the other end of the spectrum, independent perfumer Irina from Phoenix Botanicals brought us Ella, a perfume she literally made from vintage extracts she found in family effects. Can you imagine the excitement of finding extracts made by decades-ago perfumers? It was interesting to see what Irina, who usually works with materials around her and is inspired by her own interactions with nature, did with the perfume. A once-in-a-lifetime buy, of course I bought some.
Bridging the past and the present in a different way, Italian menswear brand Brioni debuted its eponymous scent, and in an age where perfume has no gender and frequently is meant to be all-occasion, I can honestly say I've never before smelled a scent that so immediately made me think of James Bond in an impeccably tailored suit.
I did not smell their 2009 limited release, but this scent is apparently very different, and in its beautiful sculptural glass bottle, different from every angle, I can easily imagine it becoming the gift of choice for men's men everywhere. This was a stunning scent and I think I would need to wear a tux to wear it but I certainly would like to smell it more often!
The return of historical taste was everywhere. I enjoyed finally visiting a Chanel counter (at Bergdorf Goodman) and sampling Misia, which, as Ari from The Scents of Self predicted, I very much liked. The young lady who showed it to me raved about how it "didn't smell like everything else" and I had a sense that she genuinely enjoyed Misia's powdery violet. I gave her a short history of the violet – that soliflores like rose and violet were what ladies wore when the innovative Coco Chanel decided to go another way and added aldehydes and musk to her rose and jasmine concoction and changed perfume forever. And of course before even that, it wasn't ladies wearing violet water – it was prostitutes, as fashion tends to work its way up the economic ladder. She was fascinated, and so was I, at the way Misia recaptures all that history so beautifully.
Perfume history is interesting to many. Perfumer Christophe Laudamiel brought us some old and well-preserved L'Air du Temps to sample with our lunch Saturday, and it was a revelation – a rich, multifaceted jewel of a white flower bouquet. I've never wanted to wear L'Air du Temps that much (I do, in fact, have some vintage parfum of it – picked up cheap at a thrift store, but I don't think I've ever even worn it). But smelling what it was intended to be, in its really original formulation, made me sort of long for what perfume used to be. Apparently there will be a temporary installation of the Osmothèque, the museum of scent, in New York this fall, as part of France-themed celebration, and I hope to attend.
And on Sunday emcee Mark Behnke of Colognoisseur used some questions to draw out Michael Edwards, the encyclopedic perfume recorder who publishes Perfumes of the World every year as a book and now runs a website database for the same purpose. Mr. Edwards has been recording the development for a very long time and in fact has had a long career tracking and classifying every new perfume developed and consulting with the firms that make them to give them the benefit of his overall view of the field.
I could listen to Michael Edwards talk all day. Not only is he incredibly knowledgable in his field, he is articulate, erudite, and has the most beautiful speaking voice you could imagine. Even in the brief time we had with him, he shared insights on the field of perfume over the years that one could never learn anywhere else. For instance, it was his impression that the big designer brands knew about the rise of niche fragrance houses in the 1990s; they just didn't think niche would amount to much. The smaller companies didn't have the capital to break into the rather oligarchical upper stratosphere of perfume marketing, after all. They didn't count on the Internet. And here we are.
It was exciting to see how new perfume brands are still striking out and carving out their own space in the market at the apex of all this perfume history. Two noteworthy brands debuted at Bergdorf's breakfast and both gave us absolutely gorgeous sampler flights so I am sure you will be hearing more about them in this blog and others as time progresses (and one works one's way through the windfall of samples that come along with two days at Sniffapalooza).
One was Memo. This European brand has long been a favorite of Mark Behnke's and he was excited to get to introduce John Malloy, co-owner of the brand who attended the breakfast to introduce his line.
Memo Shams has been a cult favorite of perfumistas for a while, spread around in decants from enterprising travelers who bring a bottle back from Europe, but it has not been available in this country until now. It was lovely to discover Shams was only one of their beautiful scents. I was particularly taken with French Leather, which I would love to wear (representing Paris, the home town of Clara Malloy and of the company); Irish Leather (representing John's home countryside) as well was the best interpretation I've ever smelled from a bottle of green and horse-loving leather and breezes from a close-by ocean – that which differentiates it from Kentucky, I suppose. I am looking forward to trying the rest of these perfumes; I feel certain one of them, if not more than one, will eventually be mine.
It was also lovely to learn that this brand is the creative output of a team of women, Clara Malloy the co-owner and nose Alienor Massenet. There are not enough women at the top in this industry and it's a pleasure to see such creative and beautiful perfumes coming from a team of women. One has to wonder why we don't see more…
The other major brand debut was the appearance of Regimes des Fleurs. These offbeat elegant concoctions are the kind of thing you'd find off the beaten path. How exciting and refreshing to find them at Bergdorf's! It's wonderful to see that Bergdorf Goodman is committed to bringing you not just the height of luxury products, like Roja Dove's scents, or the jewels of Europe, like Memo's scents, but also exquisitely interesting and beautiful art like Regimes des Fleurs.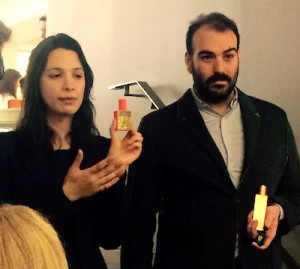 Creators Alia Raza and Ezra Woods were also on hand at the Bergdorf breakfast to show us their scents and tell us their story. It's hard to believe in the Internet era, but these two perfume lovers shared their love of scent alone in their group of friends, and ultimately decided to develop these scents (and the hand-painted bottles they come in) together. The business partners' new brand has gotten a fair amount of coverage in the magazines, but I hadn't heard of them, and was really pleased to get to sample the scents right there with them at the counter in the perfume atrium of Bergdorf Goodman.
Water/wood was a popular choice among the people I knew who were trying the brand all together there; another innovative aquatic, this one with spikes of herbs like mint along with the water and the wood – I am going to love wearing this on the first warm day of summer, I think. Dove was also popular among the crowd; several people told me they loved it on me but it wasn't working for my allergy-weighted nose, so I am going to try it again. nitesurf, the acid orange sea nightscape, is the kind of thing I'm really digging these days, with the grass and the salt water and the cold night-blooming flowers, but I'm also dying to try turquoise, since "honey" and "grass" sounds like things that will also be right in my wheelhouse and I'm dying to try them together.
It's an exciting future for perfume – not just back to the future with the designer brands, like Chanel's Misia, but absolutely new inventions in scent that are beautiful and wearable and creative, like Regimes des Fleurs. What a satisfying weekend of scent!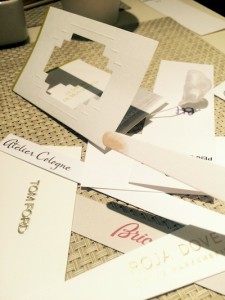 —
Images are mine (you may use under Creative Commons license with attribution to The Unseen Censer) or sales images swiped off the Internet (Memo Irish Leather and Brioni).
Bookmark or Share