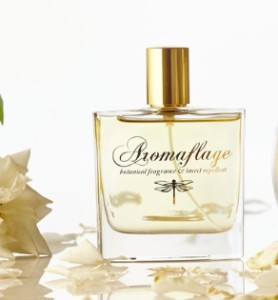 I am delicious, and the way that I know that I am delicious is that outdoor creatures dine upon me every chance they get. When I was younger every bug bite would swell up into a little mountain of horribleness, and I would scratch like you couldn't believe. I tried everything to get them to not itch – baking soda pastes, ice cubes, I would spend every summer covered in such delightful things.
I very much like the idea of anything that could help me discourage such outdoor munching, though I don't spend a lot of time outdoors and when I do, nowadays I have so many antihistamines surging through my system that at least they don't swell up like they used to.
So anyway, when Aromaflage first came and presented at, of course, Sniffapalooza, I snapped up a bottle. I intensely dislike the idea of Deet and all those other products but I'm terrified of Lyme disease and, as I say, I'm delicious. The idea behind Aromaflage is to provide an all-botanical bug repellent in the form of a fine perfume that is actually nice to wear.
I've had it around all year but didn't really get to give it a workout till yesterday, when I was able to wear it to a marshy seaside location that I knew would be replete with plenty of bugs.
All I can say is that I wish I'd worn it to my reunion two weekends ago (I took it but did not put it on as I was not sure how it would smell), at which event I got several bugbites on my scalp that are still itching (and got stung, or spider-bit, on one finger, and that took more than a week to stop hurting too). After a seaside, marsh side day yesterday, I appear to have acquired no new bug bites, and that is a personal best for me. I'm not saying it was all or only this stuff, but it certainly seems to have helped!
I wore it all over and I wasn't shy with it either. I sprayed not only all my exposed scalp at my part and the nape of the neck where I get bitten but also my clothes (I am often bitten right through a shirt or pants). Aromaflage seemed relatively low alcohol; I hate things that make my hair crunchy, like many dry shampoos do, but this product did not.
It felt a bit more like it was sticking and staying than you might be used to in a perfume; again, this is perfectly fine to my mind, because I did indeed want that stuff to stick and stay on my skin. I reapplied twice during the day and spritzed around my sweaty neck and shirt both times. You might feel it stay on the skin; again, that was fine to me, because that was what I wanted it to do!
Who cares, you're thinking: what about the scent?
According to the creators, one of the primary things that bugs do not like is vanillin, and this perfume is based off that idea. I expected it to be sticky sweet. But in fact it was not. I found it to be a pleasant enough slightly fruity, slightly woody, slightly vanilla scent that I could easily imagine anyone of either sex wearing very comfortably anywhere, and though I don't think I would describe the scent as memorable (I have no massive thoughts on the scent impressions to share with you), I did feel all day like I smelled very nice. The drydown was much fainter than I would have expected, which was fine as, as I said, I did reapply.
I have to add that I really liked the packaging. How often do you see the Unseen Censer mention packaging? Right. So it surprised me how much I liked this. But not only was the bottle pretty and nice to hold, it felt sturdy, and it comes in a fabric drawstring pouch inside its box. I did not hesitate to drop the bottle in its pouch into my bag and take it with me for the day – an unexpected bonus, and practical, because one IS going to want to reapply.
I'm glad to see Aromaflage apparently doing well; it's available at a number of stores now, including a 10 ml travel spray that I just might need. (I hope the travel size is refillable; that would be awesome.) I wore a lot more than I would of any other perfume; but I would only wear this when getting close to nature, which I just don't do that often. Pleased to have it in my collection, and I'll most likely be ordering a sample of the new scent (in darker packaging, probably to be more masculine) to try as well.
——–
Image is a promo image swiped off the web. Be glad I decided not to go with the bloodsucking insect photo.
Bookmark or Share