T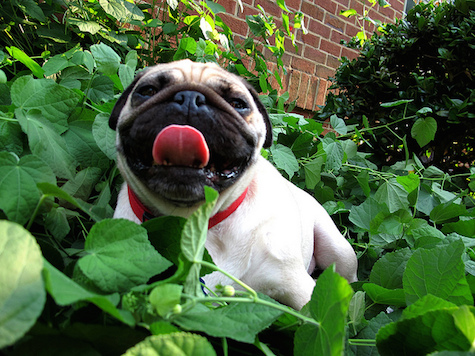 here are a lot of tricks people pull out of their perfume hats when it gets hot. There's the keeping it in the fridge trick, for instance.
I own a lot of light, sheer perfumes. I own several of the huge Marc Jacobs splashes (yes, they all dry down the same, but the initial impression of ginger, ivy, or cucumber is beautiful). I own several Tocca scents. And I own several bottles of Jo Malones, only one of which is one of the dark series (Dark Amber & Ginger Lily).
So when it got hot this week, what did I do?
Pulled out my vintage N'Aimez que Moi eau de toilette in the original Baccarat bottle, that's what.
I have a hard time thinning my collection. If I have it, I wanted it for some reason. The idea of NOT having it at the particular moment I want it is unbearable to me. It's less like hoarding and more like librarianship. (That's my story and I'm sticking to it.) No, I don't have a thousand cherry blossom scents; I have the original L'Occitane one that was part of me going down the rabbit hole of fragrance, and I have the Jo Malone Sakura scent that I got a bit overexcited about because it was supposedly never going to come out in the U.S. That's all. The problem isn't overfilling one category.
Well, or mostly that isn't the problem. I probably have too many patchoulis, too many vanillas, and various other things; but I can still tell and recall a difference between them, and they fill different needs.
Even tougher, for me, to thin out are the ones that smell exactly like themselves and nothing else. Dune, 31 Rue Cambon, Eau de Merveilles? If I got rid of them I'd just have to get them again.
Even perfumes that have almost nothing to recommend them: if I take them out and put them on, invariably I find I enjoy something about them. Things don't stay in my collection if I don't enjoy them. Today's attempt at thinning out the herd is Absolument Absinthe. It is not a standout perfume in many ways (though its folding box is delightful). But it has a green and a mint note over a pretty floral base that is very wearable, very cooling, and I enjoy it. If I could get rid of it just because it isn't memorable enough for me to reach for it, I would, but I can't. If I could get rid of it just because I wear it rarely, I would have already gotten rid of that vintage N'Aimez que Moi.
And you'll pry that baby out of my cold, dead hands.
What about you, do you switch up perfumes in the heat? Or just muddle around in your overfull collection? #firstworldproblems #I'mashamed
—-
Image is "We're Having a Heat Wave" by Gerald Brazell, via Flickr; used under Creative Commons license, some rights reserved.
Bookmark or Share