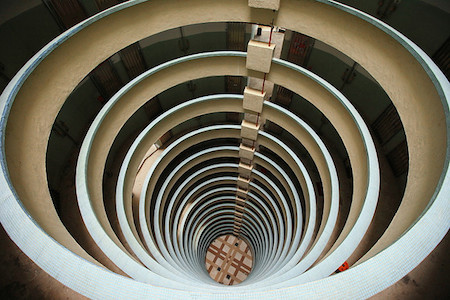 I wanted to do a "Perfume in 2015" post, but I didn't. I haven't been reading or writing much about perfume lately, as other hobbies/interests plus real life have taken up a lot of time.
It's caused me to rethink my devotion to perfume. This blog's been going on since October 2010, can you imagine? What on earth am I even doing?
Oo, patchouli.
That's the thing: I think perfume has become a feature of life for me, like food, like water, like the cat. My day feels spare without it, and though sometimes I want or need to be spare, most of the time I do still like my luxuries.
2015 was so devoted to a ridiculous amount of work that I barely paid attention to my perfumes, yet I still managed to acquire a ton more, and investigated things I hadn't investigated before.
My perfumes got more minimalist, and less snobby. I wore Gucci Guilty a lot. A lot. That lavender musk amber is never not right. Covet also got a lot of wear; in fact I bought a solid just to carry it around with me. I dragged out Natori and Adam Levine for Her, both always a pleasure. I looked for cheap thrills in TJ Maxx's, honestly because I didn't have a lot of time to consider perfume purchases. Vintage Bloom, nothing to write home about; Eau de Gaga, surprisingly good cologne in a year of good colognes. Dalal by Al-Rehab, four dollars and twenty cents of honey-sweet goodness. Awesome.
Some of my 2014 favorites carried over: In the City of Sin, how I adore you, you spicy peach gorgeousness you. I rediscovered things I had in my collection but had never loved: Bulgari Omnia, you floral spicy musk classic, I don't know why I overlooked you but I'm glad we reconnected. I investigated a lot of rose. MCMC's Talon didn't excite me as much as I wanted it to; still don't get why everyone else loves Neela Vermeire's Mohur but it is more wearable than I originally considered it. I wore a lot of iris. Hermes's Hiris found its way into my collection right before the gorgeous blue bottle disappeared from shelves forever. I continued to investigate vintage. The teeny bottle of Kelly Caleche in my glass cabinet is a spicy skanky powerhouse. I really did find a glorious patchouli: vintage Coryse Salomé Nuit d'Opera, highly recommend. I bought my annual Atelier: Jasmin Angelique is kind of perfect in a way I didn't know I wanted, an androgynous dry all-purpose jasmine.
But weirdly, as I turn the corner into 2016, I must admit that I am going back to my original loves and re-investigating, or re-enjoying them, again. I never stopped loving tea. I will always be sad that Creative Universe by Beth Terry disappeared and took with it the glorious Element of Surprise. Le Labo's Thé 29 was a nice interpretation, and I'm planning to try some Jennifer Lopez Still just because of the tea note too. I picked up some Omnia Crystalline to try, but still prefer my beloved Eau Parfumée Thé Blanc. Some of my favorite patchoulis and ambers feel weirdly heavy to me now, but still gorgeous (Psychédélique, you heavy velvet quilt of a thing!). Philosophy's Amazing Grace was reformulated away and I did search out a few bottles of the disappearing original: a trailblazer with its floral tomato leaf. I tended to go back to old decants that I never drained and was so happy to carry them around with me, like a puppy that discovered a forgotten favorite toy behind the couch and was reunited with it.
My thicker, more complex perfumes seemed to just demand too much of me. I wore my Amouages, my Memoir and my Fate, a couple of times, but I didn't have the brain space for them. I liked Sunshine but am sad to say that it is the first perfume I really had a noticeable respiratory allergy reaction to (I hate to say it but there it is). Journey has gotten more wear from me; it's easier on my brain and pretty and that's about where my mind is at. That's as far as I have capability for right now.
I'm still waiting for No. 23 to come back into stock at Ava Luxe; I took a rollerball with me on the plane, I don't know why, I know not to do that, and I dropped another little bottle and broke it, and this is one  of my all-time desert island standbys and I desperately need more. I wore Montale Vanille Extasy a couple of times as well. That apricot vanilla just never fails to cheer me up. I even went all the way back to Donna Karan Gold and wore that once, in the EDT to try to keep it light, and found it ridiculously huge. What must I have smelled like eight years ago. It is still, however, beautiful.
I noticed a list on NST that one of the readers had put together of the most-mentioned perfumes of the year. I had smelled almost none of them.
So 2015 was in many ways still a year full of perfume discoveries for me but nothing newsworthy or notable, perhaps. I'd still like to chime in from time to time to point out Stuff I Think, but it will have to wait its brainspace turn.
—
Image is "Living in circle" by Jen Son, via Flickr; used under Creative Commons license, some rights reserved.
Bookmark or Share