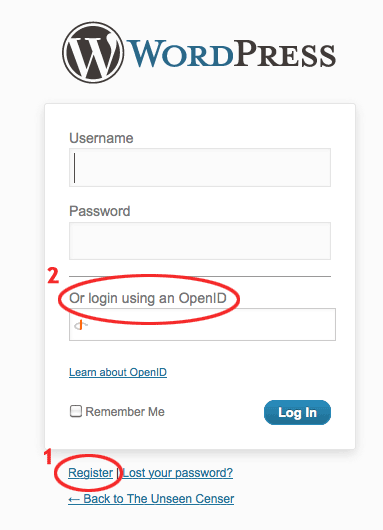 When you click "Leave a comment" on this WordPress blog (or any blog powered by WordPress), you're asked to log in with a box that looks like this one on the left. There are two ways for you to do this:
1) You can register on this site. This is usual stuff, yes? You're prompted to pick a username and give your email, and a password is mailed to you. You can log in and change it afterwards. Nothing tough.
This site supports Gravatars. You can go to the Gravatar website, log in with the account you set up here, and choose a Gravatar – an image that will graphically represent you on the website. The fun thing is, once you register a Gravatar with that email address, anytime you use that email address on a website that supports Gravatars, the same Gravatar will show up. So when you see me comment on, say, The Non-Blonde's blog or Now Smell This, you'll see the same Gravatar that is also my icon on Twitter.
But, you certainly don't need a Gravatar just to comment! You'll get one automatically when you comment with your registered account – you can ignore it or change it, as you please.
2) You can comment using OpenID.
OpenID is a way for you to use the same identification wherever you go on the web WITHOUT having to register a bunch of new accounts. It's pretty neat. Chances are you may already have an account that can be used as an OpenID account.
To use OpenID, you enter what looks like a website address. (But you don't need the http://.) It could be the address of a blog you already have, or a Google account, or even an AOL account. Most popular blogging systems support OpenID. Even Dreamwidth and InsaneJournal support OpenID (that is, your favorite platform/account/blog might support it even if it's not in that Wikipedia list. Try Googling your blog site provider and OpenID – see what you get.) There are already more than a billion OpenID IDs in the world. Or, you can even create an OpenID from scratch and use it on any site hereafter that supports OpenID. (Obviously, you can click on the "Learn More about OpenID" link to… learn more about OpenID!)
Once you have an OpenID, you can enter it right in that box. If you're already logged into your OpenID home account in that browser, then boom, you're logged in to The Unseen Censer too! (Some systems might ask if the place you're visiting can have access to info from your OpenID provider, like your email address, again, for anti-spam purposes; once you answer this question once you shouldn't have to answer it again. OR, you can answer it Yes once – "But only for now! THIS IS ONLY TEMPORARY! I DON'T TRUST YOU PEOPLE FURTHER THAN I CAN THROW YOU!" Or words to that effect. I don't have a screenshot.) If you're NOT already logged into your OpenID provider, you should be prompted to do so. Simple! A lot easier than trying to remember different passwords for all the blogs you may regularly visit, and a lot safer than giving all those blogs your password!
So if you're visiting The Unseen Censer from, say, smellme.livejournal.com (that journal exists but appears to be empty), all you have to put in the OpenID box is just that: smellme.livejournal.com . As long as you're already logged in to LiveJournal, boom, you're commenting. If you're not, you should be prompted to do so. And then boom, you're commenting.
PLEASE NOTE:
On The Unseen Censer, your first comment is held for moderation (that is, I have to approve it). Once your first comment has been approved, your others will post without moderation (though I hope you will use moderation … in something). If you post a comment with links, that also will be held for moderation, because they're often spam. You'd be amazed at how much spam a blog gets, so please forgive. I'm not against links and I will approve them… if they're not spam.
So please comment!
Bookmark or Share