The Unseen Censer is hosting a mirror here of a page put together by the thoughtful and thorough Undina of Undina's Looking Glass. If you have updates, please contact her at her site and add them! There are several perfume bloggers hosting mirrors of her page.
*******
This is a collection of links to posts from different blogs that cover perfume shopping in different cities all around the world.
Please contact me if you've written or come across an article you want to include in this list or if you want to host a similar page (I'll send you an html file with the current list and will be providing updates several times a year).
If you like the idea please spread the word. I have no commercial interest in this project I just think it might be useful for the community.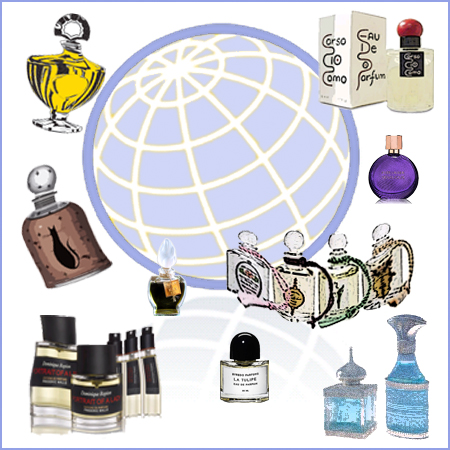 The list is organized by country and then by city. City names are links, if there is more than one link for a city [partial] article titles are used as links. In parentheses are blog names and published/last modified dates (in mm/dd/yy format).
*
Australia
Melbourne (What Men Should Smell Like, 1/5/12)
Austria
Vienna: A Viennese Sniffing Whirl (Bonkers about Perfume, 4/27/12); Le Parfum, Puredistance Perfume Lounge and Duft (Olfactoria's Travels, 1/5/11, 1/22/11 and 1/15/11)
Croatia
Zagreb: Parfumerija Lana, Viktor Koncept and Institut Parfumeur Flores (All I am – a redhed, 4/4/12, 11/11/09 and 11/18/09)
France
Paris: Paris Perfume Pilgrimage, Part I: the Right Bank and Paris Perfume Pilgrimage, Part II: The Left Bank (Grain de Musc, 7/2/2009 and 7/4/2009); Paris Perfume Shopping Addresses: Quick Index (Perfume Shrine, 1/21/12); Post Cards from Paris (Perfumed Letters, 5/1/12); Detaille – a very old and discreet perfume house (christopherk67, 7/24/11)
Germany
Berlin: Galeries Lafayette, KaDeWe and April Aromatics At KaDeWe (Bonkers about Perfume, 4/28/11 and 5/1/12)
Bruges (Bonkers about Perfume, 12/19/09)
Dresden (Bonkers about Perfume, 9/4/11)
Düsseldorf (Bonkers about Perfume, 5/2/11)
Munich (Olfactoriaís Travels, 7/23/11)
Rudesheim (Bonkers about Perfume, 12/10/11)
Stuttgart (Bonkers about Perfume, 4/25/12)
Hong Kong (What Men Should Smell Like, 4/12/12)
Hungary
Budapest: Part I and Part II (Bonkers about Perfume, 9/18/11 and 9/21/11)
Indonesia (Nose at the Ready, 6/15/10)
Italy
Florence (What Men Should Smell Like, 6/25/11)
Milan: Milan, Fragrant City, Part I and Part II (Olfactoria's Travels, 8/11/11 and 8/13/11); This Week at the Perfume Counter: Milano (I Smell Therefore I Am, 6/14/09)
Rome (What Men Should Smell Like , 6/26/11)
Sweden
Stockholm (Bonkers about Perfume, 12/24/09)
Switzerland
Zurich: Solo Sniffing In Zurich and An Ill-Fated Sniffathon In Zürich (Bonkers about Perfume, 11/9/11 and 8/21/11)
Basel (Bonkers about Perfume, 4/6/10)
United Kingdom
Belfast (Bonkers about Perfume, 5/19/12)
Edinburgh (Bonkers about Perfume, 4/12/12)
London: London Perfume Shopping Guide (Persolaise – A Perfume Blog, 4/19/12); Perfume Shopping in London (Now Smell This, 5/16/11)
Lytham (Bonkers about Perfume, 10/28/09)
USA
Las Vegas (Undina's Looking Glass, 2/28/12)
Miami (the unseen censer, 3/21/12)
New York: My New York City Sniffing Tour – Part I and Part II (Olfactoria's Travels, 12/01/12 & 12/03/12); Perfume Shopping in NY (Now Smell This, 11/20/11)
San Francisco (Another Perfume Blog, 8/8/11)
Washington D.C. (the unseen censer, 4/1/12)
—–
Last updated here at the Unseen Censer 7/4/12
Bookmark or Share